Interactive Poster Presentations
(This information originally appeared on the 2014 PanSIG site. It has been modified for content, clarity, and to give credit and citation to original authors, where known.)
Because of the nature of the PanSIG, which is a gathering of about 25 different special interest groups (SIGs) of JALT, we hope that not only will your poster presentation find a welcoming audience among the SIG it is related to, your presentation will also give ideas to members of other SIGs, encouraging an exchange of ideas and creating a network that will help you, the presenter, the SIGs that take part and ultimately, the larger organization, JALT.
Objectives
According to Creating Effective Poster Presentations, an interactive presentation should have two major objectives:
Engaging your colleagues in conversation
Getting your main message across as quickly as possible to as many people as possible
It should be
Focused: Choose a single message
Ordered: Keep your ideas sequenced, well-ordered and obvious
Graphic: Let graphs and images tell the story
Size
We strongly suggest that you make your poster on A1 (841 x 594mm). This is a standard paper size here in Japan.
One easy way to create posters is to use presentation software such as PowerPoint or Keynote, since these programs allow you to easily change the positions of photos, textboxes and so on. Before starting, set the document size to 841 x 594mm (or 7016 pixels x 9933 pixels), and decide whether you want it to be horizontal or vertical. You can save it as a PDF.
Consider taking your file to a copy shop to have them print it at A1 size. Alternatively, many universities have a poster printer where you can print your poster for free.
An alternative to an A1 poster is a "modular" poster that is composed of 8 sheets of A4 paper. This obviously reduces the possibility of large titles, but can be easier to manage.
Organizing Content
Two possible ways of organizing content are Linear and Modular:
Linear has the content laid out in a logical sequence from abstract to conclusions
great for projects that conform to scientific paper format (problem/method/results/conclusion)
also good for projects that present well as a timeline
Modular has the main points are laid out in separate boxes or modules (digestible chunks)
presenter chooses a limited number of main points and devotes a section to each
modules can be text, figure or image, yet each summarizes a specific point
Designing the Poster
The University of Leicester links to an interactive online tutorial to help with the various design issues associated with creating an academic poster. Please see "Designing an academic poster" for this tutorial.
Information that works well on posters includes:
Graphical representation of data – tables, charts, images that make specific points
Easily summarized conclusions
Examples of forms, templates, etc.
Pilot projects
Projects that follow the basic scientific paper format of intro-methods-results-conclusion
Information that does not work well on posters includes:
Complex theoretical results
Highly textual information
Exceedingly lengthy or large numerical tables
Raw data (better to summarize)
Lengthy bibliography (if citing over 20 articles, make a handout)
Identify Yourself
It should go without saying, but be sure to include your name and institution on your poster. You may consider including a QR code (choose the best from this list) with your name, email address and paper title. Some posters contain photographs of the presenter(s) to help the viewers identify the speaker(s).
Giving The Presentation
A Guide to Presenting a Poster has great advice on how to practice. You should practice short presentations of varying lengths (they suggest creating versions of 2 minutes, 5 minutes and 10 minutes in length), and be prepared to summarize your poster in just a few sentences.
Also, look at the poster from your audience's point of view: What needs the most explanation? What questions might they have?
For more advice, please see the Guide to Presenting a Poster page.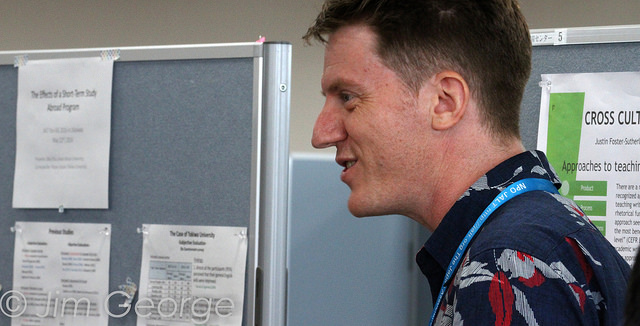 ---
Creative Commons License
Except as otherwise noted, this work is licensed under a Creative Commons Attribution-NonCommercial-ShareAlike 3.0 Unported License (CC BY-NC-SA 3.0).