What are your lunch options at PanSIG? This page gives you an overview of what is available so that you can plan ahead. Attendees are encouraged to eat on site and make new friends.
Cafeteria Lunch
Lunch will be available for an additional fee (700 yen per day, charged when you register for the conference) from the school cafeteria on both Saturday and Sunday from 11:45 to 1:15 pm. Lunch will be a hot and cold buffet (vegetarian options available).
The school cafeteria lunch will not be available for cash customers, so be sure to sign up for lunch when you register for the conference.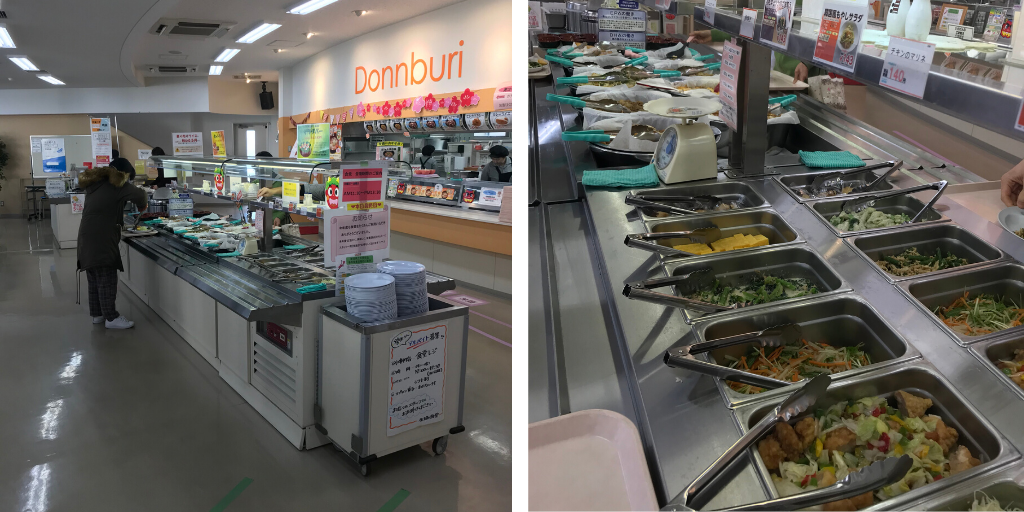 Off campus lunch options
Nearby shops – There are two convenience stores and several chain restaurants available near campus. Please see this Google Map of restaurants in the area
Coffee and other drinks
Coffee - Brewed coffee will be available in the Educational Materials Exhibition (EME) area on Saturday and Sunday. The coffee is free but contributions to help cover costs will be gratefully accepted.
Vending machines - There are hot and cold drink vending machines available on the 2nd floor as well as in the cafeteria. Conference attendees are welcome to purchase from these machines.
Dinner
On Saturday evening, we will hold the PanSIG Reception Dinner. Please see the PanSIG Reception Dinner page for details.
For other options, or for dinner on Friday evening, you may want to explore this Google map of restaurants near Niigata Station.