Getting to AIU
Please refer to Akita International University's own website to see how to get to AIU. There is also a campus map in English.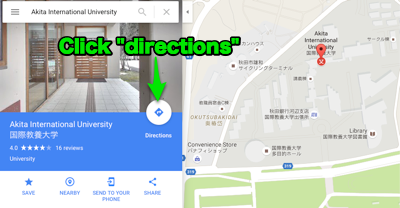 The airport has great information about flight arrivals.
For customized directions, please open Google Maps to AIU and click the icon for directions.
We will have shuttle busses to the venue from the downtown area.
If you're driving, please see our information about on-site parking.
Getting Back
People needing to go to the airport on Sunday afternoon can do so on the final (2) shuttle buses going back into the city, as they will stop at the airport first. Those who wish to go to the airport from AIU at other times (i.e. before the airport buses are scheduled to leave) will need to make their own arrangements. We will have volunteers with taxi information on hand, but it may be wise to book taxis ahead of time - there is no sitting taxi rank at AIU.The cost is around 1800 to 2000 yen. The journey takes about ten minutes.