This page contains acknowledgments and credits for photos and other intellectual property that is licensed or for which permission has been granted for use.
The photo of the interior of AIU library was taken by Jimmy and Sasha Reade, used under a Attribution-NoDerivs 2.0 Generic license. It has been digitally enhanced. (See original.)
Thank you to Yoriko Haseyama, Public Relations at Akita International University (AIU), for allowing PanSIG to use the image of the AIU mascot in our banner and other publicity.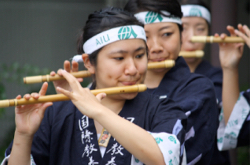 Patrick Dougherty took the photo of the AIU Kanto team (flute players).
Jim George took the photo of the Okinawan musicians who entertained us during the PanSIG 2016 Conference dinner.
The photo of the poster session was taken by Jim George at the 2016 PanSIG Conference.