PanSIG 2017 Schedule Overview
The PanSIG 2018 Call for Papers is currently in progress. The schedule below (from our 2017 conference) will give you an idea of the scale and scope of the PanSIG conference. For greater detail, please refer to PanSIG 2017 Handbook [PDF]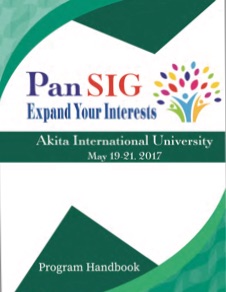 AIU is happy to announce that the LDIC (Language Development and Intercultural Studies Center) will be open for PANSIG members on Saturday, May 20 from noon until 2 p.m. The LDIC is the self-access center of the university. It is a place where students, faculty, staff, and even the general public can use for improving their own language goals. Student workers will be available to answer questions about the LDIC.
Friday, May 19, 2017
3:00 - 5:00 Self-access tour and event put on by the Japan Association for Self Access Learning (JASAL). Please see the JASAL announcement on their website for details and to register for this tour.
Saturday, May 20, 2017
8:30 (departure from Akita View Hotel) First shuttle bus to AIU (see the shuttle bus page)
9:00 Registration opens
10:00 - 10:30 Opening ceremony
10:30 - 11:30 Presentations and open forum
11:30 - 12:00 Lunch
11:45 - 12:00 Performance by the award-winning Akita International University Kanto Club and musicians (next to the D Building)
12:00 - 1:55 Presentation Block 1
12:00 - 2:00 LDIC (Language Development and Intercultural Studies Center) will be open for PanSIG members
2:00 - 2:45 Poster Session 1
2:45 - 4:40 Presentation Block 2
4:45 - 5:00 Break
5:00 - 6:00 Keynote Panel
6:15 (departure from venue) Four shuttle busses from AIU to Akita (see the shuttle bus page)
7:00 - 9:00 Banquet at The Akita View Hotel (advance booking required; coat and bag check available)
Sunday, May 21, 2017
8:00 (departure from Akita View Hotel) First shuttle bus to AIU (see the shuttle bus page)
9:00 - 11:55 Presentation Block 3
12:00 - 12:55 Lunch
1:00 - 2:25 Presentation Block 4
2:30 - 3:15 Poster Session 2
3:30 (departure from venue) Final shuttle busses (Airport by 3:45; Akita by 4:25; see the shuttle bus page)