PanSIG is an annual conference held in May, and organized by many of the Special Interest Groups (SIGs) of the Japan Association for Language Teaching (JALT). The conference brings together leading scholars and practitioners in language education from Japan, Asia, and throughout the world. It is meant to be a smaller, more intimate conference than the annual international JALT conference (which is held each fall), and is a place where SIG members can network with each other.
---
PanSIG 2020: Presentations available online from June 20th
Important notice (May 31): If you are a PanSIG 2020 presenter who said Yes or Maybe on the Google Form to presenting (via prerecorded video) at PanSIG, please check your email for an important announcement.
History: When CoVID-19 struck, the PanSIG team was just finishing up the vetting of the presentation proposals for the conference. After we made the decision to cancel the conference, we were faced with the question of what to do with these abstracts. Knowing that these abstracts represented a wide range of research efforts of a lot of people, we decided to provide these presenters with an alternative opportunity to do their presentations. After much discussion, we decided that the most straightforward way would be to ask them to record their presentations and upload them to YouTube, and PanSIG would issue a handbook with abstracts and links on June 20th.
Why June 20th? This year, we moved the PanSIG registration site from ConfTool to the framework created by Gary Ross for the JALTCALL2020 conference. As it happens, the JALTCALL conference will also be moving online. We decided that June 20th would allow us enough time to learn from the JALTCALL SIG's experience. We are also inviting SIGs to organize online forums on that weekend.
All this will be challenging, but we have a number of interesting abstracts, so we hope that we can support the research efforts of the participants and also provide an online space for SIGs to network. If you have suggestions or wish to join in the discussion, please contact us at pansig2020@gmail.com. We look forward to hearing from you.
Fees: Due to the extraordinary circumstances this year, as well as the experimental nature of taking PanSIG online, we have decided on a unique fee structure for this year:
Presenters who are JALT members: 1,000 yen
Presenters who are not JALT members: 1,500 yen
Attendees who are not presenters: free
To keep up with news, please follow us on Twitter @JALT_PanSIG and / or our Facebook page.
---
PanSIG 2019 Plenary Interview Videos Now Available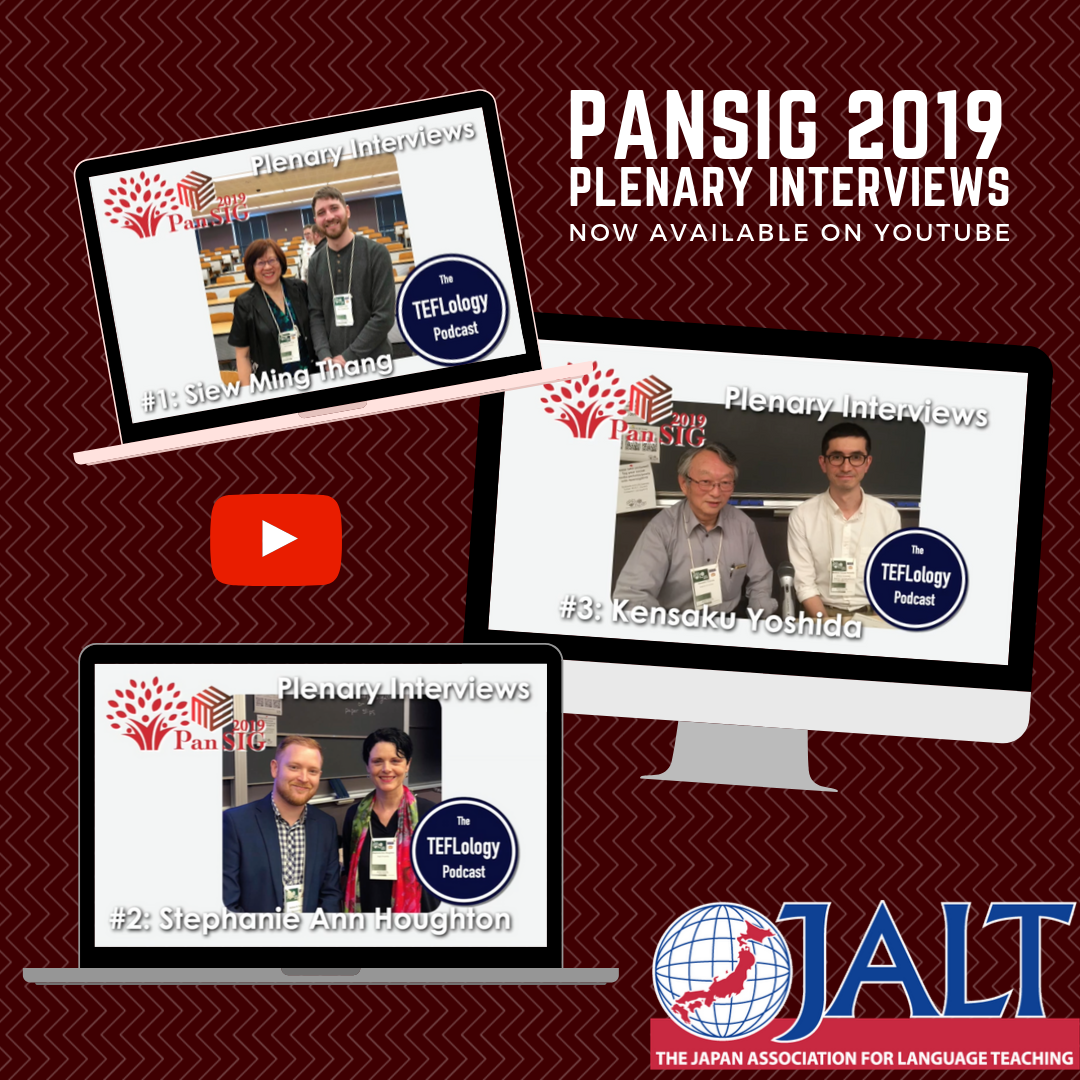 At PanSIG 2019, the plenary talks were done in a special interview format in coordination with the TEFLology Podcast. Our plenary speakers were interviewed for 30 minutes, and then answered questions submitted by the audience. The plenary talks were recorded, and are now available on YouTube.
---
PanSIG 2019 Conference was successful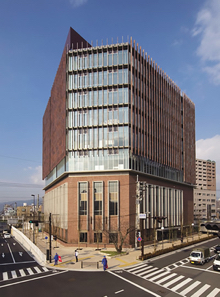 PanSIG 2019 was held at Konan University, CUBE Campus in Nishinomiya, Hyogo Prefecture, on May 18-19, 2019. To look back on what happened each day, please see our PanSIG 2019 Schedule. Also, some presenters have uploaded their presentation slides and handouts.
The Numbers:
Joël Laurier, JALT's Regional Professional Activities Committee Chair, wrote in the JALT Executive Newsletter, "Congratulations to Michael Hollenback and Roger Palmer for an extremely well-run conference. Here are the numbers:
449 participants
20 international participants from 10 countries
44 of Japan's 47 prefectures were represented
27 of JALT's 28 SIGs participated."
2019 PanSIG Journal Call for Papers
All presenters at PanSIG 2019 were invited to submit a paper based on their presentation for publication in the 2019 PanSIG Journal. In the same way that the presentations were vetted prior to the conference, journal papers from the conference are subjected to peer review. The deadline was August 15, 2019. Please see the 2019 PanSIG Journal Call for Papers page for details.
---
The 2018 PanSIG Journal Has Been Published
This journal represents the fourth edition of the annual PanSIG Journal in its latest form--following 13 years of proceedings publications beginning with 2002--which includes a selection of articles from the 2018 conference. With a comprehensive blind and detailed peer review process, including the new policy of allowing authors to take on the role of a reviewer, dedicated reviewing and editing committees, along with motivated and professional authors, and proper time management, the quality of the articles submitted to the 2018 PanSIG Journal were consistently high. The articles finally selected for publication in the 2018 PanSIG Journal demonstrated a comprehensive and robust representation of the work presented at the PanSIG conference from a number of different SIGs on a diverse range of topics. More importantly, the range of research ideas highlight the effort and creativity of the participants of the conference and the members of the SIGs, and clearly demonstrated that PanSIG as a language research, teaching and learning community is constantly evolving and seeking to find new patterns, designs and structures in language pedagogy. Download the 2018 PanSIG Journal (PDF).
---
PanSIG 2018 Conference was a success!
The PanSIG 2018 Conference at Toyo Gakuen in Tokyo was the biggest one yet, even surpassing last year's success. In total the conference attracted 463 participants (see photos). And through our "bring your own travel mug" environmental initiative, we only used 200 paper cups throughout the weekend! Thank you to everyone who helped make this year such a success, especially thanks to Jennie Roloff Rothman, Andy Boon and Jason Pratt for a smooth, well-run conference.