For full details of the conference, please download a copy of the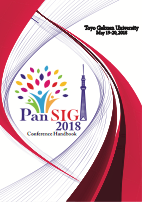 PanSIG 2018 Handbook, and bring it to the conference on your tablet, smartphone or laptop.
For an overview of each day of the conference, please see the PanSIG 2018 schedule overview. Also, the full interactive schedule is available online.
We also have details on this site about the SIG Forums, the Plenary Conversations, and the Featured Speakers.
---