Information about PanSIG 2020 will be coming soon. In the meantime, this page from last year should give you some idea of what to expect.
PanSIG is grateful for the support it receives from the sponsors of the PanSIG conference. In JALT, we call our sponsors "AMs", which stands for "Associate Members." AMs support JALT through their membership fees, advertisements, sponsored presentations at chapter, SIG and national events, exhibition space at the various JALT conferences across Japan, and many other ways. For a full list of JALT's AMs, please see the AM page on the National JALT site. A special thank-you goes out to all of the AMs who have graciously donated their time and resources to support the PanSIG conferences over the years.
Sponsored Presentations
All sponsored presentations are 25 minutes and will be held in Room 304.
Saturday
10:35: Helping Students Discover Conversation
Andy Boon
(Sponsored by englishbooks.jp)
2:35: Communication in the 21st Century
Tom Kim
(Sponsored by Tryalogue Education)
3:05: Running Downwind: Overcoming the Obstacles to SLA
Alastair Graham-Marr
(Sponsored by ABAX ELT Publishing)
4:35: Widgets Inc.: A Task-based Course in Workplace English
Marcos Benevides
(Sponsored by englishbooks.jp)
5:05: Xreading: What's New and What's Coming
Paul Goldberg
(Sponsored by englishbooks.jp)
Sunday
9:35: Engaging and Communicative Classroom Games
Juha Vaittinen & Stephen Case
(Sponsored by Tanuki Games)
10:35: Freewriting for Writing Development
John Spiri
(Sponsored by englishbooks.jp)
11:05: Goodbye To Days of Students Not Doing Homework
Jeremy Lanig
(Sponsored by BINGOBONGO Learning)
11:35: Active Learning Through Content
Brian Cullen
(Sponsored by PAWS International)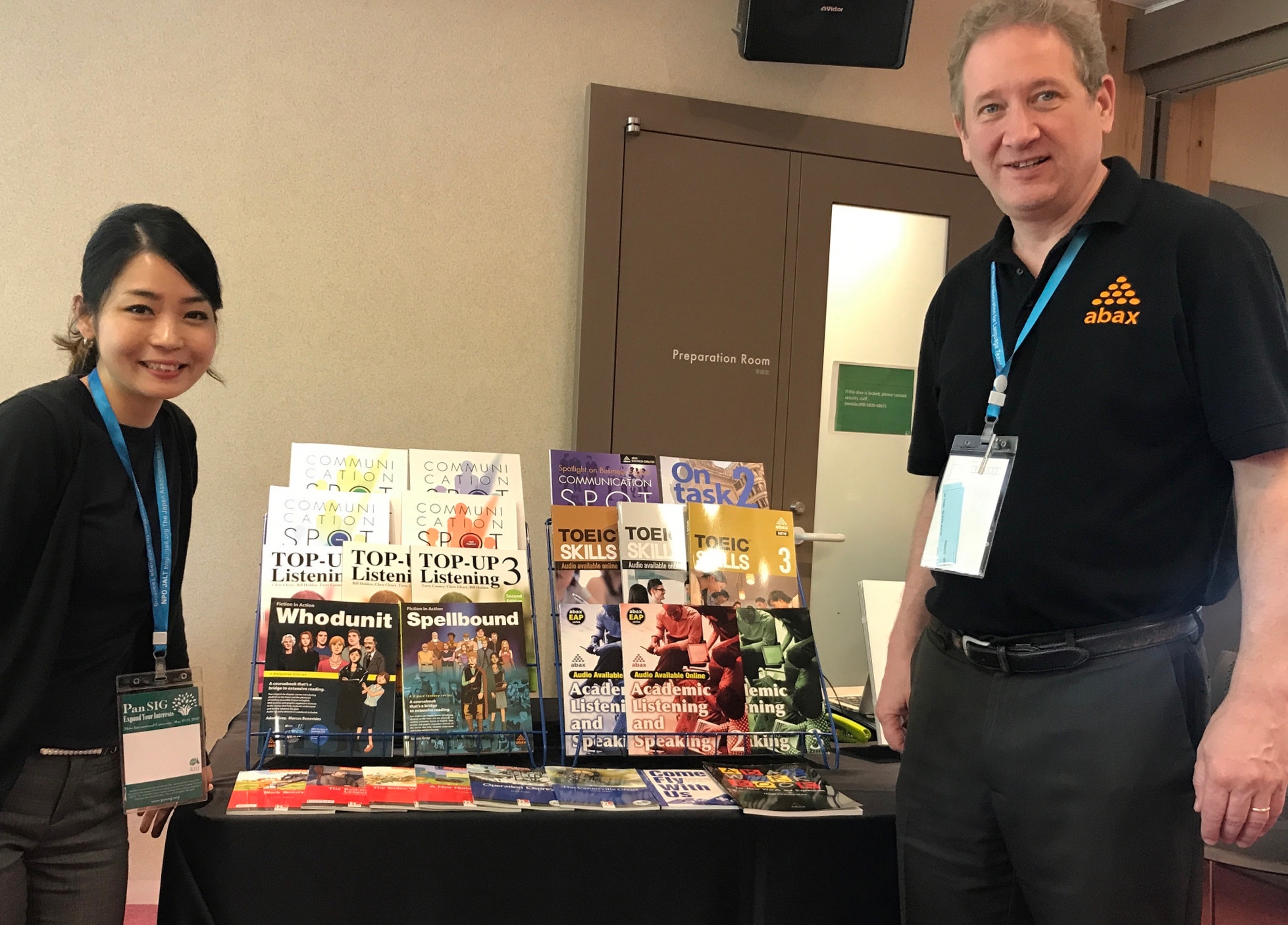 ---